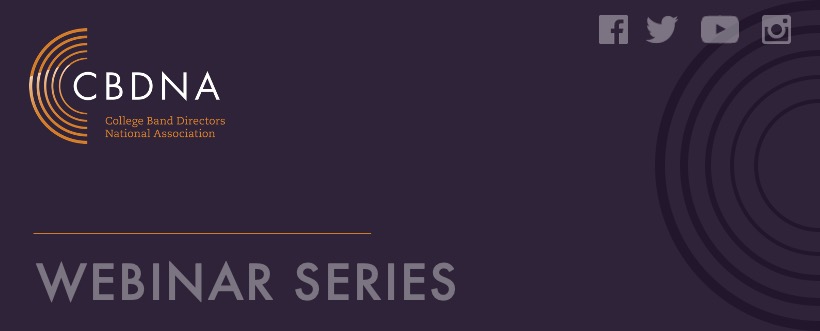 CBDNA Webinar Series
The CBDNA Webinar Series, spearheaded by the Social Media Committee, offers CBDNA members and interested observers opportunities to take part in outstanding professional development sessions that supplement CBDNA's more traditional in-person conferences. Webinars in the series will be broadcast on CBDNA's social media platforms, and presenters will have the option to approve their session for archival on CBDNA's official YouTube Channel, www.youtube.com/CBDNAmusic.
The Social Media Committee invites proposals for webinars that adhere to the following guidelines:
Proposal submissions must be submitted by a member in good standing of CBDNA at the time of submission. Multiple presenters per proposal are welcome.
Webinars are limited to 60 minutes in length.
Sessions with overtly commercial overtones or sessions that demand reliance on a specific product or service will not be considered favorably by the review committee.
Suggested webinar formats: lectures, panel discussions, interviews, demonstrations/tutorials (performance, technology, etc.)
Webinars may be pre-recorded or presented live.
Suggested topics include, but are not limited to: athletic bands, distance learning, diversity, general interest, instruction/pedagogy, music education, new works/commissioning, programming/repertoire, recruitment, research, small college, student engagement, and technology.

High interest proposals include those that relate to specific COVID-19 responses (athletic bands, virtual/distance learning, technology, programming and repertoire, small/flexible ensembles, recruitment, etc.).

There is limited support available from CBDNA for webinar production.
Deadline:
Proposals will be accepted on a rolling deadline and will be reviewed periodically.
To Apply:
Complete the proposal application form linked on this page. Applicants will be asked to upload current headshots and brief biographical statements (50 words or less) for all presenters included in the proposal. Additionally, applicants will be asked to supply a short description of the webinar (100 words or less) and a comprehensive outline of the proposed session.
Please direct all questions regarding the Webinar Series to Social Media Committee Chair, Joshua Kearney, at jskearney@unomaha.edu.
Click here to submit a proposal application